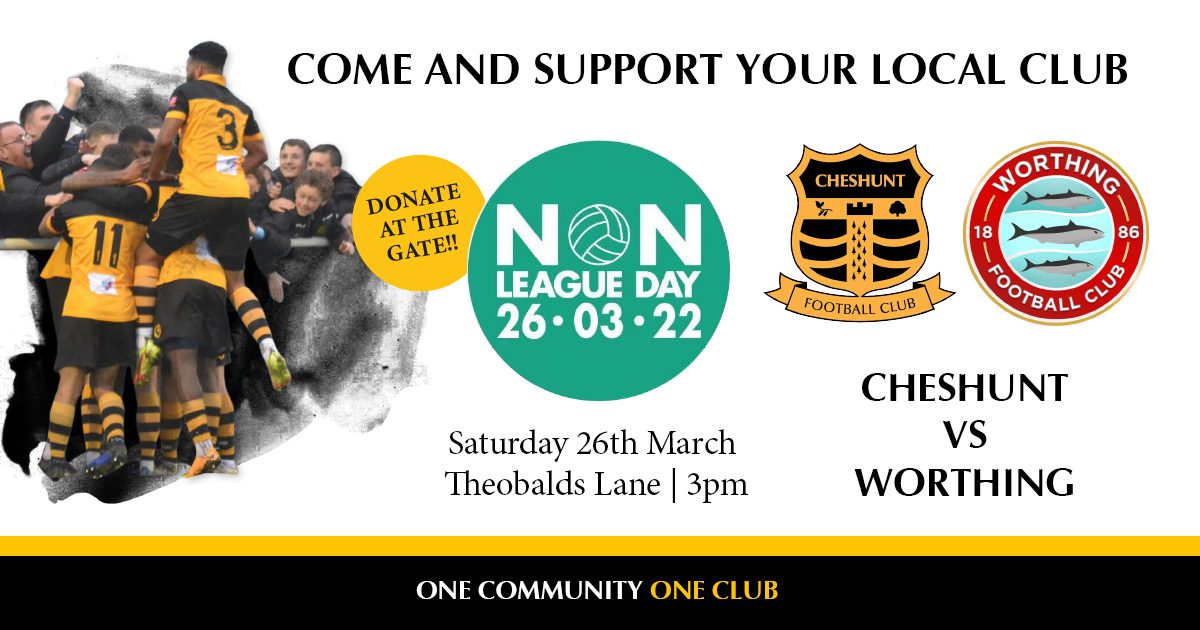 We welcome Worthing for the Football action on Saturday , but have also made the cost of entry , a Pay What You Want match, in the hope you will also choose to donate your saving to the Non League Day chosen charity Prostate Cancer UK.  Non League Day is a national initiative supported by most teams at steps 2-7 , where football fans are encouraged to visit their local Non League club on a weekend when there are no Premiership or Championship matches to attend due to the International break.
At Cheshunt  we will open both bars for the afternoon, and have an outside bar in the marquee too (card only)
There will be a sweetshop (recommended by Asst Manager Ugo Udoji) additional food courtesy of the regular Amber Burger Bar,  and face painting for the younger fans.  At half time we have the final of the Cheshunt Youth penalty shoot out  with mascot Amber the Lion too.
To entertain you before the match local singer Jodie Stone will be performing a set of popular covers in the marquee, and may even be able to do the odd request.  Jodie is well known in the area performing at weddings, parties and concerts as both DJ and solo singer,  Jodie just loves to sing and can offer a versatile and diverse repertoire of songs ranging from Club Classics, Swinging 60s, 70s, 80s soul, Country Hits and Pop & Chart music.
Jodie Stone
Post match the entertainment continues, when Jay Silver joins us in the Sports Bar to sing into the evening.  Cheshunt & Worthing fans new & old  are welcome to join us. Jay has travelled the world with her singing career ,  she has been the resident singer at the Monte Carlo Casino, Monaco, The Ritz London, Madam Jojos, to name a few, and been favourite in the line ups of concerts at British & US military bases abroad.
 Jay Silver
There is also the small matter of the England v Switzerland  international being played too, we will of course find a screen to show this too, for those of you not yet 'footballed out' so there is no need to rush home (a la Folkestone fans practising their fire drill last week)  Stay and dissect the latest Isthmian Premier League results, are we any closer to knowing who's up and who's down yet?  Enjoy good company and great music courtesy of the CHESHUNT FC,  Cheshunt Fans , and singers Jodie & Jay.
SportsBeat are recording Non League Day around the country and have a reporter & cameraman joining us for the day, so brush your hair,  practice your best concentrating on the football pose, and think of something positive to say about Non League football, you never know, you may get asked for your views.
Please Come and Join the Cheshunt FC Regulars, Enjoy Your Visit, and maybe even get the 'Non League Bug'