As the euphoria of winning the play off final wore off, thoughts turned to what would be needed to operate in the National League South.  Secretary Nigel turned up at the committee meeting with a long list of requirements the club's contract required throughout the season from observing TV broadcast embargoes ( a first for Cheshunt), providing the league with a full 90 minute video version of every match, upgrading the stadium, increasing the size of dressing rooms, and recording all transfers in and out, and results on a new digital platform.  We would see Cheshunt results on Sky Sports & in Sunday papers, our matches appearing in all manner of sports betting opportunities, and even be able to manage club fortunes ourselves on the computer game Football Manager 23.
It was a busy summer.
The Team
The work done behind the scenes by Manager Craig Edwards, his coaches Ugo Udoji, Curtis Whyte and James Elliott is phenomenal, aside the matches & Tuesday Thursday training, they are analysing videos of opponents, scouting players & watching opponent teams, and at this level having to manage a lot more player agents, budget demand & loan negotiation. A huge Thank You to Craig & his team for the time & effort they put into making sure Cheshunt FC put out competitive teams week in week out. The demands of football at this level can take its toll from time to time & physios Carlo & Imran were invaluable in ensuring players could manage their injuries and make a safe return to the match day squads.
The players (and we have seen a few) have given 100+%  and whilst we didn't quite escape relegation, it has been a fantastic experience for many of our players to play at this level for the first time, and once the team settled they didn't look out of place, despite competing with opponents who even at National League South have gone full time, with much larger playing budgets available to them.  A special mention to Adam Desbois, a goalkeeper taking the Supporters & Players Player awards after some commanding performances, and Taylor McKenzie recognised as the Committee & Managers Player of the year, challenged for his place by all comers at the start, Taylor ended the season as a fixture & captain on the two o'clock team sheet.  Goals were at a premium this season, but Reece Beckles Richards topped the table and included a hat trick against local rivals St Albans City FC.
We saw some players come & go, we saw some come on loan & stay ( our thanks must go to Watford, Luton Town, QPR, Colchester, Bournemouth & Barnet Football Clubs for their assistance & expertise in loan arrangements) and there are still a few familiar faces from last season giving us continuity.  Thank You to everyone who played for the Ambers this season whether it was one match or thirty, we will look forward to seeing some of you next season, and those of you who may play elsewhere, we hope it is at a higher level & wish you every success.
The Fans
Attendance at Cheshunt FC home matches has increased year on year & we now average 475 at home games, Non League Day saw 963 in attendance, a record for the season.  The marquee, originally an option used during Covid has been adopted by the fans & become the FanZone, with flags, 2 x Screens, Barrels & Benches, most impressive is the collection of opponent scarves they have been persuaded to part with during their visit to Theobalds Lane.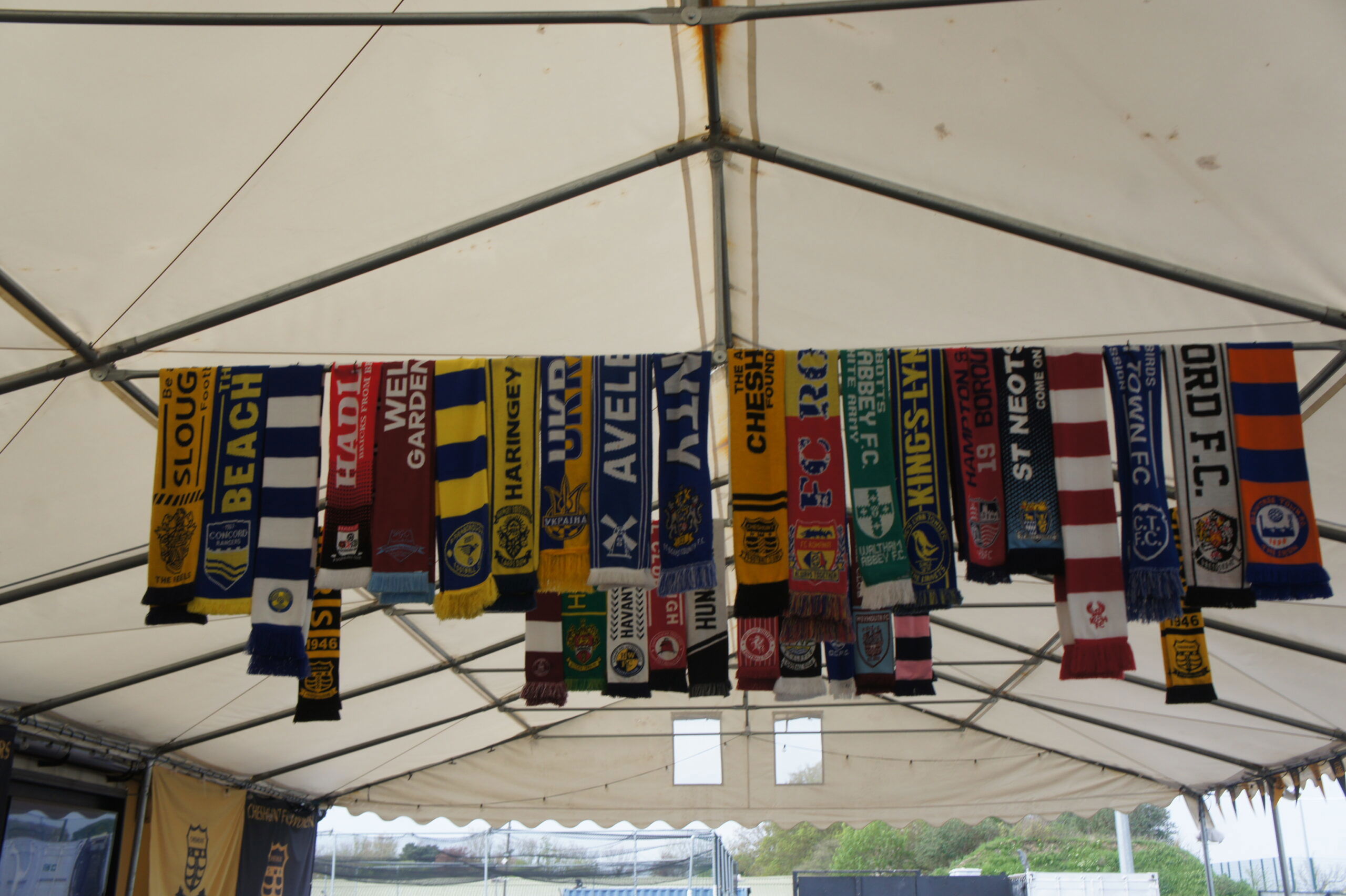 Manager Craig & the team have expressed their gratitude to the fans both at home & away (there was a time away support could be counted on one hand)  Cheshunt FC has been able to grow this year through the increased number of fans paying at the turnstile, spending at the Sports Bar or  Amber Eats, and also regularly requiring the new Ambers Shop to re-stock,  We should also recognise the trades within the fan base & the club supporters who have pitched in when required with a paint brush, screwdriver, the dreaded drain rods and everything in-between, including the regular match day 50/50 draw (also known as the Bradshaw Family draw)  expertly promoted by Dan 'Barney' Barnett.  Thank You to all of the supporters who have attended matches this season, whilst we didn't quite achieve the objective of staying in the division, what a great experience it was, New Grounds, New Teams, New People and the standard of the football on display was certainly worth the entrance fee ( most of the time)
At the Awards evening Kevin Moore was voted Supporter of the Year, there were many contenders including five who were in contention to ' do the Forty Six' ,  new supporters & some of the more well established, but not many could match Kevin's experiences over the years, from having to push the team coach at Merthyr Tydfil on a wet Wednesday night, to seeing a new manager last just under an hour in the dug out before resigning.  New for this season was a decision not to go down the path of having a boardroom full of octogenarian honorary life presidents supping tea & sucking biscuits, but instead to have a Hall of Fame , where nominations can be made from playing staff, supporters, all the other teams operating under the Cheshunt FC badge, and all the various committees that exist to keep the club moving forward.  This year, longstanding fan Ron Littlechild was the first to be named on the Hall of Fame shield. As a local chap, Ron has been supporting Cheshunt through thick & thin for over 70 years, offering a quiet opinion on matches from the back row of the main stand.  Congratulations to Kevin & Ron.
Thank You Everyone,  Enjoy the Break,  and be confident that having tasted step 2 football the general feeling is we quite enjoyed it, and are already planning recruitment, some exciting pre season matches & a successful season 23-24.