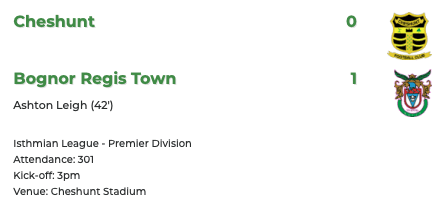 Entertainment 4
Star Man Calvin Davies Bognor Regis Town
Attendance 301
Notorious for being slow starters the Rocks were true to form & the home side were first to everything for thirty minutes, Ken Charles & Zack Newton looked sharp & the Bognor defence struggled to work out where the runs were, especially with Mo Camara winning headers at will to feed the ball on. Cheshunt created half chances while on top but failed to test Tangara in the away goal, save a few punches clear from speculative crosses.
The match took a more feisty turn when Joe Re for Cheshunt & Ashton Leigh clashed near the touchline, the latter only picking up yellow for the initial challenge, then rubbing salt in an angry Cheshunt wound when finding himself in space twenty five yards out three minutes later to time a rising drive into the roof of the net for the fisrst shot on target for either side.
Cheshunt continued to press & work hard , having more of the play but failing to find the final ball for the equaliser, a mistake from Tangara in the Rocks goal presented Newton with a chance but he drove it straight back at the grateful keeper when a lob may have been the better option, Tangara then redeemed himself when Ken Charles got across the defence to connect with an Ola Williams cross flashing a header low towards the corner that Tangara dived full stretch to turn around the post.
Mayhem erupted with ten minutes to play when the referee grew impatient with the time wasting tactics employed by the visitors throughout the second half & sent off Jordy Mongoy, initially booked for time wasting leaving the field & then in the ensuing debate booked again? or had he been booked previously already?  had the substitution been made or not? After much furore, it was deemed he had previously been booked so saw red, and as a result the substitution could not  take place & the Rocks had to play out injury time even more slowly with ten men. Cheshunt can feel aggrieved not to have had the full amount of injury time, with the red card taking at least ten minutes to resolve, three subs each and the physio on three times, However the Ambers  need to look at making sure they have a return for their fine football when in control of matches first.